Events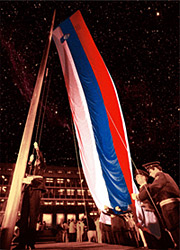 Over 160 events across Slovenia to commemorate 15 years of Slovenia's independence
On the occasion of the 15th anniversary of Slovenia's independence, over 160 various events will be organised across the country. The Coordination Committee for State Celebrations has prepared a list of major events and the programme for the main state celebration commemorating National Day (25 June), which will be held in Ljubljana on 24 June.
Among the first events were the opening of an exhibition entitled "Vojna za Slovenijo 1991" ("The War for Slovenia 1991") in Lendava on 28 April, and a solemn celebration commemorating the "Pekre Incident" on 20 May. Celebrations will conclude on 26 October, the anniversary of the withdrawal of the last soldier of the Yugoslav People's Army from Slovenia.
Simultaneously with the main celebration on 24 June in Ljubljana, different events will be organised across Slovenia co-organised by local communities, the Union of Veterans of the War for Slovenia, and the Sever Police Veterans Association. Various celebrations will also be organised by Slovenian expatriates, and the National Museum of Contemporary History of Slovenia will host a series of exhibitions.